Moving On Guide for Seniors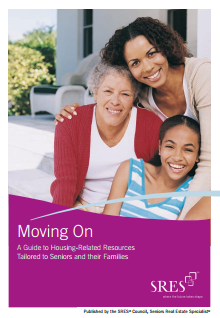 Are you thinking of selling your home to move to a senior supportive environment? Or perhaps to move in with an adult son or daughter who can help with your needs as you grow older? Whatever the reason, there may come a time when parents, along with their adult children, consider selling and moving on.
Our Moving On Guide is designed to help guide your family through the complex issues and unique situations you may encounter during the process. You need a REALTOR
®
with senior experience, knowledge and marketing savvy. Those qualities, along with a special knowledge of managing the sale of a home for those over the age of 50, are what
SRES® designees
can bring to your next real estate transaction.
As a Seniors Real Estate Specialist® (SRES®) I am qualified to assist seniors in housing sales and purchases.
To assist you, the
SRES
Council created a unique and valuable resource the
Moving On Guide
. This comprehensive guide walks you through each step in the process, with personalized guidelines and worksheets that will help you find the next living situation well-suited to your needs. And best of all, it's free! Order your FREE Moving On Guide today or
sign up here
!